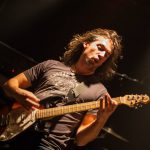 Ivan Mihaljević is a guitar player, singer and music producer from Zagreb, Croatia, born in 1986. He started playing guitar at the age of 14. Five years later he played one of the biggest metal festivals Wacken Open Air with the band Hard Time. In the next 10 years he played in opening acts for Whitesnake, The Cult, Scorpions, Paul Gilbert, Richie Kotzen and Tito & Tarantula. In November 2008, he played with the inventor of the electric guitar – Les Paul in New York. In March 2011 his album Destination Unknown was named "The Album Of The Month" by the prestigious British magazine Guitar Techniques. In 2012 he performed with his band Side Effects on the biggest Italian festival Heineken Jamming Festival along with Red Hot Chili Peppers, Prodigy, The Cure, Noel Gallagher (Oasis), Evanescence and Gorillaz. In the same year Side Effects won the first place in the Italian competition Ritmi Globali Europei and as a prize the band recorded a single Recoil with the producer Bob Benozzo who won several Latin Grammy Awards.
Ivan won the Croatian Musician's Union award Status for the best guitar player of 2015.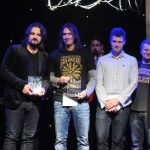 Ivan is endorsed by Ernie Ball Music Man, ENGL and Dragoon.
These days Ivan plays guitar and sings in Side Effects, sings in Sikter Egu and teaches guitar, band practice and sound engineering at Rock Akademija in Zagreb.